It's the end of another comping year so I thought I'd share some of my favourite prizes and competition entries with you, also with me being a complete info nerd I've  made a lovely infographic to breakdown all my prize-winning stats!
I currently use googlesheets to keep track of the prizes I've won (it's also incredibly useful to track what prizes you have received and know when to chase a promoter)  One of my projects in the new year will be to create a free Master Comp Tracker spreadsheet that you can download to track your own competitions which will include all the calculations for you for working out prize-winning stats!
As you can see from my infographic I've won prizes worth a total of £8745 I've been comping on and off for 3 years now and this has been my most successful year yet.  I fell behind on counting the number of competitions entered towards the end of the year but on average for each competition i entered i earned 54 pence worth of prizes – having this figure made it useful for when i was mind numbingly bored going through lists and lists on competitiondatabase.co.uk at least thinking each comp entered was worth 54p to me (ie if i entered 100 competitions i should in theory earn a prize worth £54) This figure has changed massively over the year however as i had a big shift in how i was entering competitions as well as the type of competitions i entered  as i started entering more effort competitions and spent more time looking for my own competitions, this had a rather positive effect netting me not one but two family holidays as well as large discount of a 3rd family holiday to somewhere we've been wanting to go for ages! Read on to discover my favourite wins for this year
We'd just moved house this at the start of the year and we FINALLY had room for a dishwasher, so i of course opted to win one, luckily 2 days after saying i was going to win one i found out i had won £200 in vouchers of my choice from a prize draw on the Netmums website in conjunction with Huggies Pull ups, I opted for Argos vouchers and used these to cross off the first item on my prize wish list – a dishwasher!
February was a great month for comping, I won a ridiculous number of prizes partly down to the Walkers crisps UEFA purchase promotion, 7 T-shirts, 5 footballs and 1 sharing bowl later i decided to stop entering, i kept one t-shirt for my husband and the rest of them and all the footballs were donated to my son's school wheelchair football team!  On another crisp packet promotion this time with Kettle Chips i won lunch for 2 at the Ritz, this lovely prize was given to my Mum to share with her friend.
Another prize was crossed off my wish list this month with a massive bathroom mirror from Croydex. This was a Facebook competition where you had to say who or what you loved – cue countless entries about how much people love their husbands/children/parents etc, I opted to be different and say 'I love my new house but my bathroom would look so much better with your mirror in it!' and included a picture of the horrid mirror we currently had.  It always pays to make your answer relevant to the prize if the promoter has specifically said the draw will be random
I love a competition where there are less entries than there are prizes,  i was lucky enough to stumble upon this promotion run by Baby Mel and Legoland that simply asked for a picture of you playing Lego with your children to win a brand new changing bag. Now a changing bag might not seem like much but when you've been rocking the same free Boots changing bag from your first-born (2010) it's an amazing upgrade.  I'm too frugal to spend £60 on a bag to carry around nappies!
In April i changed things up a bit and decided as i was no longer pregnant i would start looking to do more effort competitions and also look for family holidays too.  My first effort competition to win a holiday i entered was with car leasing company Rockar,  the prize was for a 7 night stay in the luxury lodges the KP near York.  You had to go into the store at Bluewater, dress up with silly props provided and then take a selfie and put on twitter.
Unbelievably despite being listed on competition websites and the comp being prominently advertised outside their store only 5 people entered, and i was their lucky winner!  They even upgraded our lodge in the end given us an extra bedroom so Chase could have wheelchair access to a bedroom downstairs which was super kind of them.  This generous move by them bumped up the prize value to well over £1000!
Another low entry competition this time with Roomzzz Aparthotels; they gave away a hotel stay a day during their A-Z promotion and it was low entry the whole way through although i didn't discover the competition until they were on the last few letters.  You had to use the letter of the day to describe why Roomzzz
makes you happy, again lots of entries were just written but i decided to make a picture for mine instead to stand out.  We won a nights stay at any of their properties we wanted, so me hubby and baby Harper went for a lovely short stay in Nottingham!
Now having won one holiday for me husband and the little kids, I decided i needed to find a holiday that we could take just the older kids on so they wasn't missing out on a holiday!
After a quick look at the effort competitions section on prizefinder.com I spotted a judged effort competition to win a VIP family trip to Rome.  The competition asked you to go to your local Cineworld and take a picture with the Teenage Mutant Ninja Turtles cut out or statues they had promoting the movie in
the foyers. Having fully read the judging criteria I realised I needed to be interacting with the turtles instead of just posing with them, armed with a homemade Teenage mutant ninja turtles costume, a pizza box and a cardboard pizza prop left over from another competition entry earlier this year i set off to our local Cineworld. They did not have either the large cutout OR a statue to pose with so we took an hours drive to find our next Cineworld – which thankfully did!  Cineworld were quite late to announce the winner so I assumed that someone else had won so it was a big surprise when they contacted me to say I was their winner! We're due to visit Rome next year which we're really looking forward too
Huffington Post and Voltarol ran a competition where you had to submit a picture of how you tips to get back into the habit of exercising again.   I used a picture of my at Clubbercise and said to make sure excercise was fun! This netted me a Fitbit Charge HR and a years gym membership.  (FYI if you haven't been to a Clubbercise class i totally reccommend it it's ridiculously fun)  The picture is so grainy and bad from low lighting i'm not even going to attempt to post it here but if you scroll down my Instagram feed you'll find it there recycled for a clinique competition entry
I had such fun making this next competition entry.  You had to tell Game using a video why your favourite Gears of War moment and then upload to their special client which added extra Gears of War effects.  I spent a whole evening trying to find extra special effects to add to the video and recreated my favourite moment rather than just talking about it.  The prize for this was a brand new limited edition Gears of War XBox one S! We're all huge gamers in this house but also being on a budget means i couldn't justify buying the new version of their console, i was also really chuffed to win the new game and all the previous games in the franchise with this amazing prize!  You can watch the final edit of my video here – i didn't realise they would be cropping my face with special effects or i would have held the camera further away!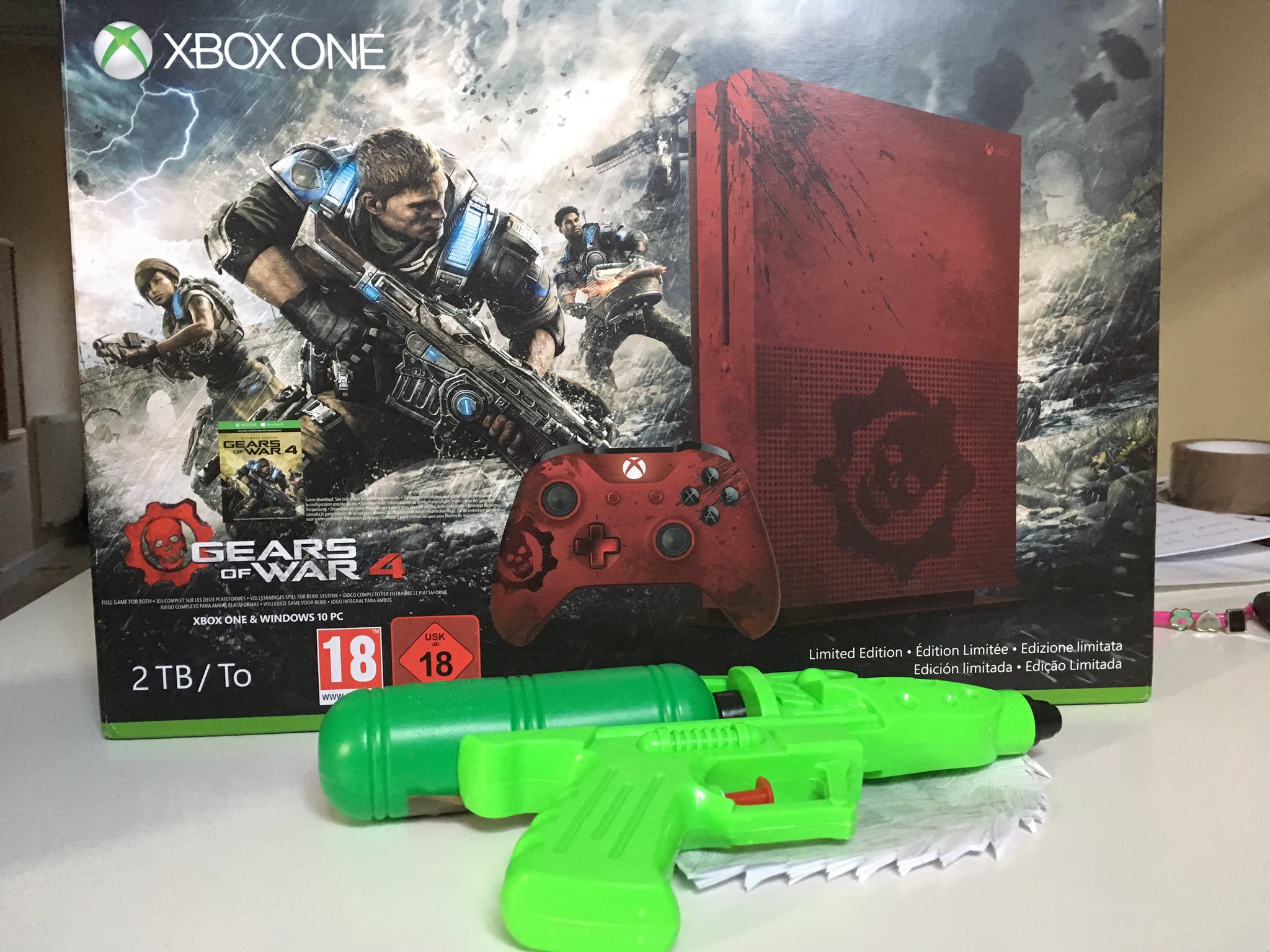 Our family has long been wanting to take a long break away in a cottage and i'd already found the perfect destination on a small family owned holiday farm perfect for kids, turns out they also run a bl
og and were running a competition to win a holiday in one of their cottages over christmas! It was a simple gleam form but entries included making videos about what you thought you would like about staying there and writing blog posts etc, so a lot of people just did the basic easy entries, i did as many as i possibly could, I unfortunately didn't win but i did get a runners-up prize with a large discount off our christmas holiday – I'm hoping they run the competition again as we had such an amazing time we would love to go back!
Thanks to a local comping group i found out my local radio station were giving away 100 P&O ferry crossing trips, you had to fill out a form online with the keyword given on air, thanks to a very helpful fellow comper I was able to net a ferry crossing for a car and up to 9 passengers, it's always worth looking to see if there's a local comping group for your area on Facebook!
The last part of the year has been quite quiet, this is due to discovering something called matched betting (I'm saving full details for another blog post but i've made £3.7k tax free cash in only 4 months so it was worth the drop in competitions) I've still have had quite a lot of luck in December despite barely doing any advent competitions.  You can check out all my December wins once the blog post goes live on New Years Eve
How did your year of comping go?  I've had some brilliant prizes, far too many to list all of them here in one go but I'll be updating monthly with my prizes next year as well as sharing some hints and tips and other bloggers sites I recommend to help you have a successful and winning 2017!
UPDATE
If you're reading down here it's now 2017!  Here's some handy links to this years monthly winning blog posts